About Me
Hello,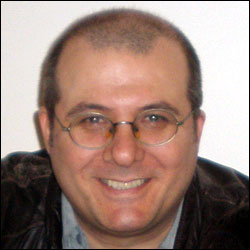 I'm Martin Aranovitch and I am a WordPress educator and trainer.
I have been teaching, training, and educating people about the benefits and advantages of using WordPress to grow their business online almost since the beginning of WordPress itself.
WordPress started in May 2003. I started using WordPress in 2005 and soon began using WordPress to build websites and blogs for local businesses.
After a few years spent building sites for clients and for some of my own business ideas, I saw a need to educate and train non-technical businesses to take control of their online presence.
Around 2011, I began running local council and state government-sponsored WordPress education seminars and training workshops …
(WordPress Training Seminars)
Since then, I've written a number of books and training guides about using WordPress and related digital topics …
(WordPress & digital business guides)
I've also authored a  number of digital products, including software and online training courses …
(Digital business products)
Since discovering WordPress, I've built hundreds of sites for clients and for my own online businessess. Here are some of the WordPress sites I currently own and manage:
(WPCompendium.org – Hundreds Of WordPress Tutorials For Non-Techies … 100% FREE!)
WPCompendium.org provides hundreds of detailed step-by-step WordPress tutorials for non-techies and beginners. This site attracts thousands of visitors and users every month from all around the world.
Although many sites offer free WordPress tutorials online, these are mostly run by technical users and the tutorials these sites offer are aimed mostly at a technical audience (e.g. web developers).
Although many sites offer WordPress tutorials, most are run by technical users and aimed at a technical audience (e.g. web developers). WPCompendium.org is a unique WordPress tutorials site because it has been entirely built by a 'non-techie' and runs at minimal cost to show other non-techies how to do the same.
(WPMasterclasses.com – WordPress and Digital Business Video Courses)
WPMasterclasses.com provides dozens of video courses and 1,500+ video tutorials on WordPress and digital business.
Most video lessons include links to relevant detailed step-by-step tutorials (on WPCompendium.org), with downloadable files, templates, guides, and additional resources for more information.
WPTrainingManual.com provides WordPress learning, teaching & training resources for non-techies & digital service providers.
Our Complete Step-By-Step WordPress User Manual contains 500+ pages of searchable and downloadable checklists, cheatsheets, tables, and flowcharts on how to use a WordPress site.
(WPServicesDirectory.com – WordPress Services Directory)
WPServicesDirectory.com provides businesses that need help with WordPress with access to WordPress experts and professional WordPress services.
***
As you can see, I love WordPress!
I am passionate about training and empowering people about the benefits and advantages of using WordPress, and I enjoy sharing my years of experience discovering many cost-effective methods and strategies for getting better results online using WordPress.
What I Can Offer You:
If you are a medium-to-large digital agency or web hosting/web development company selling WordPress services and can handle unlimited client growth, I will deliver more clients to your WordPress services with a unique approach based on providing you strategic, customized sales presentations and educational and training seminars and workshops that will funnel and convert your prospects into customers. You provide the support, venue, and resources, we'll work together on lead generation strategies , and I'll present and represent your business as an integral part of your team.
If you need to provide staff or clients with professional training documentation for your services, I can help you plan and create a comprehensive, organized, and fully interlinked training site for internal or external purposes with detailed step-by-step tutorials (both written and video tutorials).
If you're a small-to-medium business, I can build and manage your digital department, train your staff how to use WordPress, and provide complete WordPress training documentation for your organization.
I am available on a contract or full-time basis. Contact me here.
Why You Should Hire Me:
1 – I Have Experience Presenting, Educating & Empowering Users About WordPress
I provide a true consultative approach based on understanding the needs of non-technical businesses, explaining technical concepts in a language that non-technical users can easily understand, and providing specific solutions that will fit the needs and budgets of most businesses without leaving them feeling disempowered or turning them into 'hostages' of their technical service providers. Over many years, I have developed sales, seminar, and workshop presentations and training strategies that educate and empower non-technical audiences, and I have used this approach successfully for over a decade. You can read testimonials about my approach and methods here: WordPress User Testimonials.
2 – I Understand The Challenges Of Educating Non-Technical Users
I believe that the more we educate and empower users about WordPress, the more WordPress products and services they will want to use. Educating non-technical users about the benefits of using WordPress, however, is very challenging for a number of reasons (I address these here: The Challenges Of Educating, Teaching And Training New WordPress Users).
As a non-technical user, I understand not only the challenges of using a platform like WordPress but also the challenges of building a digital presence that can be successfully managed by non-techies (I address many of these challenges in my book The Small Business Digital Manager).
3 – It Takes One To Know One
I am a non-technical WordPress user and a business owner. The largest growth segment for WordPress is selling products and services to non-technical WordPress users who want to grow their business. When I present or talk about WordPress to businesses, I speak from the same perspective as my audience and as someone who understands the frustrations and limitations that most businesses experience.
In my presentations and seminars, I show people how technologies like WordPress can bring order to their business and leverage their limited time and resources. My sales presentation and training methods connect with audiences because they come from a mindset and experience of someone who does not have a technical background or someone with "no skin in the game."
4 – I See The Big Picture And Work On The Details
For years, I've bootstrapped, self-funded, and self-taught my way through the challenges of using WordPress to not only build websites, but to turn my business ideas into automated online businesses. Along the way, I have helped many businesses transform into profitable (and even franchisable) companies.
I am also a systems-oriented person who understands the processes responsible for delivering businesses results online and who has spent years working through the details of these processes.
When you hire me to represent your business and sell your services, you are getting someone who knows that:
WordPress can put anyone in complete control of their digital presence (check out all the websites listed above – these were all built by a non-techie at minimal cost and are being entirely managed by one person using systems and automation).
Has comprehensive knowledge of what WordPress can do, what problems it can help businesses solve, and who can think creatively outside the box to deliver the exact solutions that clients need within their budgets.
Can document processes and procedures in step-by-step detail and deliver these in different media formats (e.g. detailed written tutorials with screenshots or video-based training) … even document your entire business into a franchisable company.
5 – There's Only One Of Me
I've spent years documenting everything I know about using WordPress in the sites, books, and courses listed above. If you want to know what I know about using WordPress and the challenges of growing a business online with limited resources, then visit one of my sites or purchase one of my books or training courses.
If you want to leverage everything I know about using WordPress to help you grow your business or sell more of your company's digital services (or document your products, services, or business), then contact me.  Please note, however, that if I am already 'under contract', I may not be available for some time.
What I Am Looking For:
I AM looking for:
To be part of a winning team in a systems-driven company with strong ethical values, a clear vision, and the resources, commitment, and dedication to consistently deliver on its promises to customers.
To help you sell, present, train, or document your WordPress products or services.
Ideally, you are a medium-to-large digital agency or web hosting/web development company focused on selling WordPress services.
At least 18-24 months commitment (minimum 6 month contract). I will consider a long-term contract or full-time position for the right company.
Australia-based (I live in Sydney) but will travel where required.
What I Am Not Looking For:
I AM NOT looking for:
Businesses that lack operational systems and the resources to build sustainable results.
Web development work or technical support services (I'm not a techie – see everything I've written above!)
100% commission-based business opportunities (e.g. affiliate/whitelabel/SEO agency, etc.)
General/freelance article writing work.
Interested in discussing things further? Then click here to contact me.
I look forward to hearing from you.
Martin Aranovitch
Check Out My Sites:
WPCompendium.org – Hundreds of detailed step-by-step WordPress tutorials for non-techies … 100% FREE!
WPMasterclasses.com – WordPress and digital business video courses.
WPTrainingManual.com – WordPress learning, teaching & training resources for non-techies & digital service providers.
WPServicesDirectory.com – Get professional help with WordPress from WordPress experts.
DistributionPress.com – News release writing and distribution services.
Follow Me:

PS: Here's A Little Known Fact About Me …
When Matt Mullenweg (WordPress co-founder) visited Sydney, Australia, to talk about the future of WordPress, I informed him that I spend more time dreaming of WordPress than dreaming of my wife 😉 What I didn't explain to Matt then is that what I really spend my time thinking about, is how to address the challenges of teaching, educating, and training WordPress end-users (i.e. non-technical businesses) how they can take contol of their digital presence and grow their business online using WordPress. Maybe someday I'll get the chance to explain myself better 🙂
PPS: Here's Another Little Known Fact About Me …
Many people don't know this (actually, most people), but I wrote the first internet love song. Really … check out the YouTube video below (and it would have been a huge viral global hit too if meddling kids like Justin Bieber hadn't come along!) …
***